Text4Baby
Text4Baby is a free mobile information service designed to promote maternal and child health. It provides pregnant women and new moms (or their loved ones) with information to help them care for their health and give their babies the best possible start in life.
Those who sign up for the service will receive free SMS text messages each week, timed to their due date or baby's date of birth.
Once registered, text4baby will send you 3 text messages per week until your baby is one year old.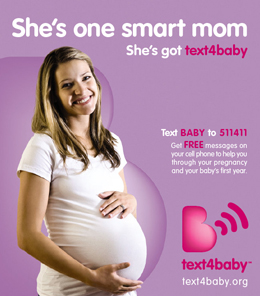 How do I sign up for Text4Baby?
It's simple and fast. Just use your cell phone and text a message to 511411. Simply text the word "BABY". Or text "BEBE" to receive messages in Spanish.
To unsubscribe at any point, text message the word STOP to 511411.
For assistance at any point, text message the word HELP to 511411 or contact customer service at info@text4baby.org.
What issues are covered by Text4Baby?
The text messages delivered by text4baby include the following:
Prenatal Care
Safe Sleep
Immunization
Breastfeeding
Diabetes
Nutrition
Oral Health
Developmental Milestones
Labor and Delivery
Car Seat Safety
Exercise
Women who sign up at any point during pregnancy receive a "starter pack" with critical information and encouragement to connect to care.
Who is involved with Text4Baby?
Text4baby is an educational program of the National Healthy Mothers, Healthy Babies Coaltion (HMHB).
Text4baby is made possible through a broad, public-private partnership that includes government, corporations, academic institutions, professional associations, non-profit organizations, and more.
Founding partners include National Healthy Mothers, Healthy Babies Coalition, Voxiva, CTIA - The Wireless Foundation, and Grey Healthcare Group (a WPP company) and text4baby's Founding Sponsor, Johnson & Johnson.
Federal government partners include the White House Office of Science and Technology Policy, the U.S. Department of Health and Human Services, the U.S. Department of Defense Military Health System, the U.S. Department of Agriculture, and the U.S. Consumer Product Safety Commission.
Free messaging services are generously provided by participating mobile operators, including Alltel, Assurance Wireless, AT&T, Bluegrass Cellular, Boost Mobile, Cellular South, Cellcom, Centennial Cellular, Cincinnati Bell, Cricket, Metro PCS, nTelos, Nex-Tech Wireless, Sprint Nextel, T-Mobile, U.S. Cellular, Verizon Wireless, and Virgin Mobile USA.
---