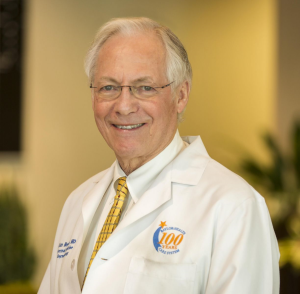 Dr. Alan Menter, MD
---
Physician (MD, DO)
Dermatology
---
Texas Dermatology Associates, P.A.
3900 Junius Street,
Suite 145
Dallas, Texas 75246
[MAP]
Website
---
About Me
Dr. Alan Menter, MD is a board-certified Dallas dermatologist and providing care to patients at Texas Dermatology Associates.

Dr. Menter has been listed in the Best Doctors in America since 1994 and Who's Who in Medicine and Healthcare since 1996. He also represented the South African National Rugby team, the Springboks, in 1968. In 2013, Dr. Menter received the Lifetime Achievement Award from the National Psoriasis Foundation. In March 2015, he received the Dermatology Foundation annual Clark W. Finnerud award at the AAD meeting in San Francisco.

Dr Menter has written over 190 articles, 2 books, and 10 book chapters in peer reviewed medical publications, and has an international reputation as a clinician/researcher. In 2004, he spearheaded the formation of the International Psoriasis Council, for which he currently serves as President. He has given lectures to medical professional audiences around the world.
In addition to seeing patients at Texas Dermatology, Dr. Menter serves several other roles in the medical community.
President of the International Psoriasis Council
Chairman of the Division of Dermatology at Baylor University Medical Center Dallas
Clinical Professor of Dermatology at Southwestern Medical School Dallas
Director of Psoriasis Research, Baylor Research Institute
Member of the Board of Directors American Academy of Dermatology (1995-97)
President of the Texas Dermatology Society (1995-96)
Chairman of the Task Force on guidelines for Standards of Care for Psoriasis (1990-93)
Board Member and Texas State Chairman, Dermatology Foundation
Included in "Best Doctors in America" (1993-2005)
Dallas County Medical Society, Member
Dallas Dermatological Society, Member
Medical Expertise
Dr. Menter specializes in medical dermatology and has particular expertise in the treatment of psoriasis. His clinical practice includes more than 1,600 patients on systemic and biologic therapy and phototherapy.

Dr. Menter's research on psoriasis has examined everything from ultraviolet phototherapy, biologic therapy to the mapping of genetic patterns to predict if a person is at risk of developing psoriasis.


Conditions Treated
Acne
Aging Skin & Wrinkles
Allergic Contact Dermatitis
Atopic Dermatitis
Hair Loss (Balding)
Psoriasis
Rosacea
Seborrheic Keratosis
Skin Cancer
Warts
Procedures & Services
Biologic Medications for Psoriasis
Biologic Medications for Psoriatic Arthritis
Botox® Cosmetic
Juvederm®
Phototherapy for Psoriasis
Patient Education Resources
Botulinum Toxin for Cosmetic Uses
What is Botox®? Botox® is a purified protein toxin produced by the clostridium botulinum bacteria. Only tiny amounts of Botox® are used thus preventing serious side effects. Botox® is injected into a specific muscle, which blocks the nerve impulse from reaching the area, so the muscle weakens. As the muscle weakens the skin overlying the muscle relaxes and the wrinkles soften and often disappear. Safety of Botox® The safety and efficacy of Botox® treatment was ev...
Juvéderm™
What is JUVÉDERM™? Juvéderm™ injectable gel is a "next-generation" smooth consistency gel dermal filler that helps to restore your skin's volume and smooth away facial wrinkles and folds like your "smile lines" or "parentheses" (nasolabial folds—the creases that run from the bottom of your nose to the corners of your mouth). Juvéderm™ comes in two formulations—Juvéderm™ Ultra and Juv&eacute...
Education & Training
Dr. Alan Menter was born in England and received his dermatology residency training in South Africa. He subsequently undertook further postgraduate training and research at Guy's Hospital and St. John's Hospital for Diseases of the Skin in London, England. After moving to the United States, he completed a fellowship in Dermatology at Southwestern Medical School in Dallas.
Professional Affiliations
Texas Dermatology Associates, P.A.

At Texas Dermatology Associates, our board-certified dermatologists and physician assistants specialize in the diagnosis, management and prevention of skin, hair and nail conditions with access to advanced treatments and technologies to offer the best possible care. One of the most important aspects of good skin care is regular skin examinations. We recommend that all of our patients regularly inspect their skin monthly for changes and suspicious-looking lesions or changes in existing skin characteristics.

At Texas Dermatology Associates, we've been committed to providing our patients with the most up-to-date cosmetic and aesthetic skin care options for more than 30 years. We were involved in the first clinical trials of Botox® and hyaluronic acid fillers, and among the first institutes in the nation to provide these cosmetic procedures to our patients. In September 2014, we opened our brand new, state-of-the-art facility—the Menter Cosmetic Institute. Today, we offer the latest cosmetic, body contouring, laser and aesthetic services in an indulgent spa-like environment. When it comes to cosmetic dermatology, Baylor University Medical Center is the perfect home for the Menter Cosmetic Institute.