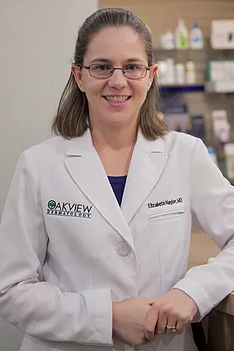 Dr. Elizabeth Naylor, MD
---
Physician (MD, DO)
Dermatology
---
Oakview Dermatology, LLC
2111 East State Street
Athens, Ohio 45701
[MAP]
Learn More
About Me
Dr. Elizabeth Naylor, MD is a board-certified dermatologist providing care to patients in the Columbus and Dayton Ohio area at Oakview Dermatology.

Dr. Naylor has published multiple articles in the Journal of the American Academy of Dermatology and presented at national meetings for the American Academy of Dermatology, American Society for Dermatopathology, and the Cosmetic Surgery Forum.

Dr. Naylor participates in clinical research and has been an investigator in clinical trials involving acne and psoriasis patients.
Medical Expertise
Dr. Naylor specializes in medical dermatology and has particular expertise in the treatment of acne and psoriasis.
Conditions Treated
Acne
Aging Skin & Wrinkles
Allergic Contact Dermatitis
Atopic Dermatitis
Hair Loss (Balding)
Psoriasis
Rosacea
Seborrheic Keratosis
Skin Cancer
Warts
Procedures & Services
Biologic Medications for Psoriasis
Biologic Medications for Psoriatic Arthritis
Education & Training
Dr. Naylor graduated from the eight year combined BA/MD program at Brown University in 2008. After completing her internship year at Yale in 2009, she trained as a dermatology resident at Duke until 2012.
Oakview Dermatology, LLC

At Oakview Dermatology, our priority is to deliver exceptional quality dermatologic care, in a comfortable and convenient setting.
Our friendly and experienced medical staff will listen and respond to your medical needs and counsel you on the best ways to maintain and improve your health --- providing you with the individualized attention you deserve.