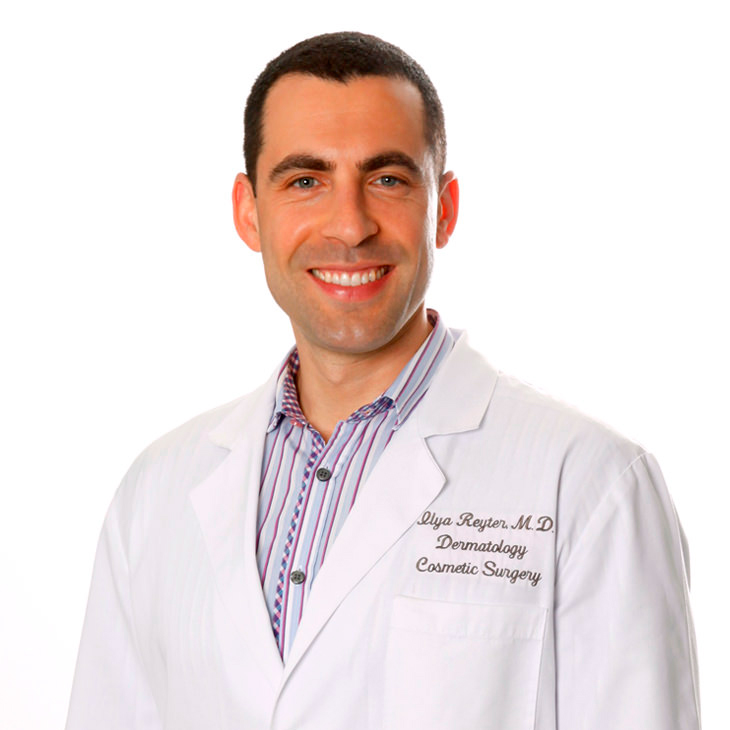 Physician (MD, DO)
Dermatology
American Skin Institute
4836 Van Nuys Boulevard
Sherman Oaks, California 91403
[MAP]
Learn More
Medical Expertise
Dr. Ilya Reyter is a Los Angeles-based doctor who is board certified as a dermatologist and dermatological surgeon. With his experience and education, Dr. Reyter is able to give his patients the highest level of care available, such as the following:
Liposuction
Chemosurgery/Mohs
Treatment of diseased skin
General care for skin
Botox/Dysport
Surgery by Laser
Fillers (Restylane, Perlane, Juvederm)
Fat Transfer
Tips & Wisdom
Laser Hair Removal
Dermatology + Cosmetic Surgery
Allan S. Wirtzer, MD, Medical Director
There have been tremendous advances in recent years for laser removal of unwanted facial or body hair.
Lasers produce intense light that is absorbed by the pigment in hair called melanin. The melanin absorbs the light and heats up. This heat damages the hair follicle without hurting the surrounding tissue. The damaged hair follicle stops producing hair or replaces thick adult hair with a fine, light-colored hair (vellus hair).
Traditional hair removal methods, such as waxing, shaving, and plucking, remove only the hair shaft. This leaves the hair follicle in place to grow new hair. Electrolysis delivers an electrical current to each follicle that can lead to permanent hair removal. However, it is painful and slow and usually requires multiple treatments over months or years.
Laser hair removal is a safe, effective, and convenient alternative to those methods. Lasers can treat large areas quickly, often in the time it takes to shave. Improvements may be seen after only one treatment, but repeat treatments are usually required to achieve desired results.
During treatment, you will experience mild to moderate discomfort similar to being snapped by a rubber band. Most patients tolerate the procedure without anesthesia, but anesthesia may be recommended for sensitive areas. This may include a numbing cream applied to the skin one hour before treatment.
After treatment, the area may appear swollen and feel like a mild sunburn.
Results of laser hair removal depend on several factors, including:
Hair color—Lasers are most effective for dark hair. Light hair lacks sufficient melanin to absorb the light and heat up the hair follicle.
Hair thickness—Thicker hairs respond better than thinner hairs.
Skin color—Previously, only fair-skinned people could be treated with lasers for hair removal. Now dark-skinned individuals can also be treated, but gentler and more numerous treatments may be required to deliver the same results.
Body area—Arms, legs, underarms, and hair in the bikini area respond best to treatment. Facial hair (chin and lip) tends to be more resistant.
People of all skin colors and hair types will benefit from some delayed hair re-growth for as long as 6 months after one treatment. However, because not all hair follicles are active at the same time, multiple treatments are usually needed to remove all hair from each area. Most people require 3–6 treatments, 4 to 6 weeks apart. After the initial round of treatments, your doctor may recommend maintenance treatments once or twice per year.
Along with mild side effects, some people may experience scarring or changes in skin color, although these changes are rare and usually resolve quickly. You can minimize these risks by carefully following your pre- and post-treatment instructions.
Patient Education Resources
Conditions Treated
Acne
Aging Skin & Wrinkles
Allergic Contact Dermatitis
Atopic Dermatitis
Hair Loss (Balding)
Psoriasis
Rosacea
Seborrheic Keratosis
Skin Cancer
Warts
About Me
Dr. Ilya Reyter is a top doctor qualified as a dermatologist and dermatological surgeon. In his position at the University of Southern California Keck School of Medicine, Dr. Reyter has been distinguished for his innovations in techniques of facial volume restoration with fat transfer and fillers. Outside of USC, Dr. Reyter performs a wide array of dermatogic procedures and cosmetic surgeries, including liposuction, surgery by laser, chemosurgery, fat transfer, soft tissue fillers, Botox and using laser resurfacing to treat photoaging and sun damage.

At the USC Department of Dermatology, Dr. Reyter holds the position of Assistant Clinical Professor. Here, Dr. Reyter created an innovative lipodystrophy program that assists patients in the fight against disfiguring facial fat and volume loss. Dr. Reyter uses this program to teach his fellow physicians techniques to reduce facial fat loss, a problem common for aging individuals, but especially prevalent in those suffering from a number of diseases, including HIV. By using new methods to harvest and move fat from the patient, Dr. Reyter is able to eliminate the physically wasted, hollow look that is difficult to control through other means.

A Los Angeles native, Dr. Reyter attended the University of California Los Angeles, where he graduated magna cum laude as a Distinguished Scholar. Afterwards, he went to medical school at the University of California San Francisco. Finally, Dr. Reyter came back to Los Angeles to complete his dermatology residency training at USC, a position that saw him elected Chief Resident.

Following his residency, Dr. Reyter became a part of USC's clinical faculty and started his own Beverly Hills-based private practice, which has grown in popularity. In recent times, Dr. Reyter was offered a fellowship position at Mohs Surgery/Procedural Dermatology, which he decided to accept. In the dermatology field, this fellowship is the most advanced surgical training, which means that Dr. Reyter is well equipped to serve his patients with his expertise as a dermatologist and dermatological surgeon.
American Skin Institute

American Skin Institute is a leading provider of dermatology services in Southern California.
The practice was formed in 2012, when the office of Ilya Reyter M.D. merged with the office of Allan Wirtzer M.D. With locations in Sherman Oaks, Beverly Hills and Westlake Village, American Skin Institute provides excellence in medical, surgical and cosmetic dermatology.
Our founder and Medical Director, Ilya Reyter, M.D., is fellowship-trained in dermatological surgery, specializing in Mohs skin cancer surgery and reconstruction as well as minimally invasive cosmetic surgery.
The board certified dermatologists and staff of American Skin Institute are dedicated to treating all aspects of skin disease utilizing the most advanced technology. Our facilities include:
Mohs treatment center, for the most advanced surgical treatment for skin cancers
Medicare-certified Ambulatory Surgery Center, offering the highest level of surgical care
Comprehensive laser treatment center, with lasers for the treatment of blood vessels, sun damaged skin, sun spots, tattoo removal, hair removal, and skin rejuvenation
Photodynamic treatment center, utilizing Blu-U light therapy for the treatment of acne and pre-skin cancerous lesions
Psoriasis treatment center, including ultraviolet light therapy and the X-Trac laser system
Acne treatment center
Radiation oncology department, offering non-surgical treatment for skin cancer
Plastic Surgery department
Is this your Profile? Log-in to your Vivacare account to make changes