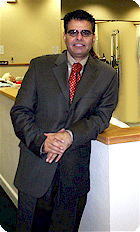 Dr. Mahmoud Mohamed, MD
---
Physician (MD, DO)
Neurology
---
Specialty
Clinical Neurophysiology
Provide Feedback
---
Comprehensive Neurology & Headache Center
4417 N. Holland Sylvania Road
Toledo, Ohio 43623
[MAP]
Website
---
About Me
Mahmoud Mohamed, MD is a board-certified neurologist providing care to patients at Toledo Neurology.












Medical Expertise
Dr. Mohamed diagnoses and treats adults with a wide range of neurological issues and has additional training in neuromuscular disorders, epilepsy and the use of EEG and EMG studies.

Dr. Mohamed also offer Botox injections for Migraine Headaches and Hyperhidrosis (excessive sweating of hands, feet, and underarms).
Conditions Treated
Alzheimer's Disease
Diabetic Neuropathy
Epilepsy
Headaches
Multiple Sclerosis
Parkinson's Disease
Restless Leg Syndrome (RLS)
Spasticity
Stroke
Procedures & Services
EEG (Electroencephalogram)
MRI of the Head (Magnetic Resonance Imaging)
Botulinum Toxin for Focal Dystonia
Botulinum Toxin for Spasticity
Electromyogram (EMG)
Education & Training
Medical Internship, Henry Ford Hospital
Neurology Residency, Wayne State University/DMC
Clinical Neurophysiology Fellowship, Wayne State University/DMC
Comprehensive Neurology & Headache Center

Toledo Neurology, located in Toledo, Ohio, where you will have the best neurological care available, and in a timely fashion. You will be treated with the utmost respect and care. I will always be available to answer any questions about neurology or any other concerns that you might have, even after office hours.

We serve Toledo, Sylvania, Maumee and the entire Toledo area.