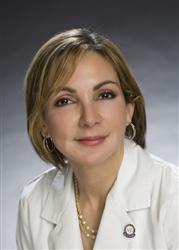 Dr. Virnalisis Gonzalez, MD
---
Physician (MD, DO)
Dermatology
---
Specialty
Cosmetic Dermatology,
Dermatologic Surgery
Provide Feedback
---
The Skin Center of San Antonio, PLLC
10007 Huebner Rd
Suite 102
San Antonio, Texas 78240
[MAP]
Website
---
About Me
Dr. Virnalisis Gonzalez is a board-certified dermatologist of over 20 years of experience in clinical, surgical and aesthetic Dermatology. She is known for her top quality and state of the art services as well as her compassion and dedication to her patients of all stages of life.

Dr. Gonzalez has vast experience in the use of various lasers for both medical and aesthetic applications like pigment and tattoo removal, vascular treatment, both traditional and fractionated lasers (Fraxel) for both minimal downtime and ablative wrinkle resurfacing, permanent laser hair reduction, excimer laser and phototherapy as well as photodinamic therapy for medical and cosmetic applications like psoriasis, vitiligo and acne.
Medical Expertise
Dr. Gonzalez has vast experience and skill in the treatment of both benign growths as well as skin cancer, leg vein sclerotherapy, earlobe repair, Botox for both hyperhidrosis and aesthetic indications, fillers and collagen-stimulatory injections (Sculptra) as well as PTFe implantation for facial and lip rejuvenation and volumization. Dr. Gonzalez also offers dermasanding and subcision for scar remodeling, superficial and medium-depth peels and cosmeceutical dispensing to optimize and complement aesthetic results.
Conditions Treated
Acne
Aging Skin & Wrinkles
Allergic Contact Dermatitis
Atopic Dermatitis
Hair Loss (Balding)
Psoriasis
Rosacea
Seborrheic Keratosis
Skin Cancer
Warts
Acne Scars
Actinic Keratoses (AKs)
Procedures & Services
Biologic Medications for Psoriasis
Botox® Cosmetic
Botulinum Toxin for Cosmetic Uses
Cosmeceuticals
Dermal Fillers (Soft Tissue Augmentation)
Juvederm®
Latisse® (bimatropost ophthalmic solution)
Patch Testing for Contact Dermatitis
Phototherapy for Psoriasis
Tissue Tightening
Tips & Wisdom
What does "broad-spectrum" means on sunscreens?
The broad-spectrum test measures a product's ultraviolet A (UVA) protection relative to its ultraviolet B (UVB) protection. Sunscreens that pass this test may be labeled as "Broad-Spectrum SPF (value)" on the front of their label. For broad-spectrum sunscreens, SPF values also indicate the amount or magnitude of overall protection. Broad-Spectrum SPF products with SPF valued higher than 15 provide greater protection and may claim additional uses. Only broad-spectrum sunscreens with an SPF value...
The Skin Center of San Antonio, PLLC

The Skin Center of San Antonio, founded by Virnalisis M. Gonzalez, a Board Certified Dermatologist, is excited to offer premier dermatology and professional skin care to our patients in the Medical Center, highway IH-10 corridor and the city of Boerne.

At the Skin Center of San Antonio, we strive to provide the highest quality patient care in a compassionate and service oriented environment.

Our office provides a full range of dermatology services for all ages, and skin types, including specialized procedures, such as skin surgery, laser treatments as well as aesthetic services and procedures.

Thank you for visiting us online and we look forward to assisting you with your skin care needs in person.