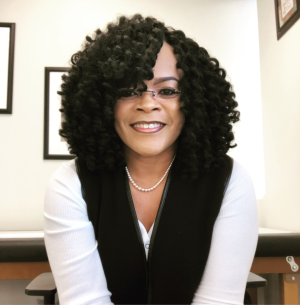 Nurse Practitioner (NP, APRN)
Family Medicine
Specialty
Addiction Medicine, Geriatric Medicine, Preventive Medicine
Provide Feedback
Tips & Wisdom
Conditions Treated
Acid Reflux (GER / GERD)
Asthma
COPD (Chronic Bronchitis, Emphysema)
Diabetes - Type 2
Osteoarthritis
Overweight and Obesity
Atopic Dermatitis
Coronary Artery Disease (CAD)
High Cholesterol (Hypercholesterolemia)
Osteoporosis
Ear Infection (Otitis Media)
High Blood Pressure (Hypertension)
Procedures & Services
Cancer Screening
Flu Vaccine
Prenatal Care
Stop Smoking
Weight Loss
Contraception
Shingles (Zoster) Vaccine
Vaccines (Immunizations)
Well Child Checks
About Me
Michelle Grimes, NP is a nurse practitioner providing care to patients in St. Charles, Missouri at EPIC Healthcare and Wellness Solutions. ​​​​​​Having over 40 years of nursing experience Michelle believes that healthcare access should be available for all and started a house calls healthcare company to bring healthcare to those without transportation, to ill to travel of for anyone that just wants the convenience of home care by their provider.

She also has ​experience in establishing, growing, strengthening, and managing large healthcare organizations in Missouri and Southern Illinois that deliver the highest quality patient care while generating outstanding P&L results. Michelle is a Doctoral of Nursing Practice Family Nurse Practitioner Board Certified specializing in family care.

Michelle focuses on the whole person, is dedicated to changing healthcare delivery and decreasing healthcare disparities. Michelle offers telehealth visits, telephonic visits, home visits, email, text and office visits to support the needs of her patients and potential patients. She also offers various methods of payment including most insurances, FSA, HSA, Apple PAY,Square, Cash app and a concierge service called Direct Primary care (PDC) which is am only membership fee and of course cash.

Our name speaks for itself.... EPIC.... E-Every P- Person I-Individualized C-Care

Service and care when you need it most. We are here for you!!!!
Education & Training
Chamberlain College of Nursing: Doctorate of Nursing Practice, Family Practice Nursing
Fontbonne University: MBA, Business Management
University of Missouri-Saint Louis: BS in Nursing
St. Louis Community College: Associates in Nursing
EPIC Healthcare and Wellness Solutions
Epic Healthcare and Wellness Solutions offers healthcare with convenience. We offer house visits, telehealth, telephonic visits, email and text communications as well as the traditional office visits.

We offer efficient, caring and thorough care when and where you need it most. No waiting.. no rush. and no time limit..

E- every
P - Person
I - Individualized
C - care

Here when you need us most:
Our name says it al!!

You can also teach us at: https://www.pushhealth.com/practices/65200/new-patients/mgrimes09
Is this your Profile? Log-in to your Vivacare account to make changes