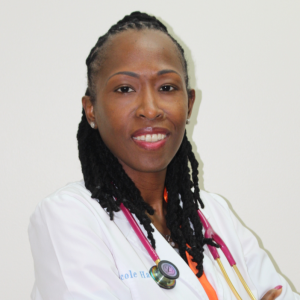 Nurse Practitioner (NP, APRN)
Internal Medicine
Specialty
Preventive Medicine
N-Hall Medical Services LLC
6051 W Commercial Blvd
Tamarac, Florida 33319
[MAP]
Learn More
Medical Expertise
Nicole has over 25 years of experience in Nursing and over 13 years of experience as a Nurse Practitioner.
She believes in prevention and wellness and is skilled in chronic disease management and stabilization.
Tips & Wisdom
High Blood Pressure (Hypertension)
High Blood Pressure is known as the "silent killer". It is important to have your blood pressure checked even if you feel well. Many people do not have symptoms when their blood pressure is high. Schedule a visit with your Primary MD for screening today!
Conditions Treated
Acid Reflux (GER / GERD)
Atrial Fibrillation
Coronary Artery Disease (CAD)
High Blood Pressure (Hypertension)
Osteoarthritis
Overweight and Obesity
Asthma
COPD (Chronic Bronchitis, Emphysema)
Diabetes - Type 2
High Cholesterol (Hypercholesterolemia)
Osteoporosis
Procedures & Services
Cancer Screening
Weight Loss
Stop Smoking
About Me
Nicole Eversley-Hall, APRN-C is a nurse practitioner providing care to patients in Tamarac, Florida at N-Hall Medical Services.
She started N-Hall Medical Services to provide a holistic approach to Primary Care and formulates individualized plans of care based on each patient's unique needs.
Education & Training
Florida International University: MS in Nursing
Is this your Profile? Log-in to your Vivacare account to make changes