Rogaine® is the first topical brand FDA-approved to regrow hair in both men and women.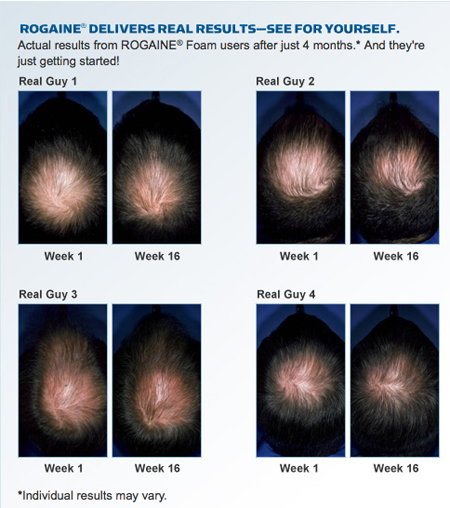 In clinical testing, Men's Rogaine® Foam regrew hair in 85% of men after 4 months when used twice daily. Rogaine® is the #1 dermatologist-recommended brand for hair regrowth.
With hereditary hair loss, a variety of factors lead to a progressive shrinking of the hair follicles in the scalp. This causes a shortening of the hair's growing cycle. Over time, as the active growth phase becomes shorter, the resting phase becomes longer. Eventually, there may be no growth at all.
The exact mechanism of action of Rogaine ® is uncertain, but it is thought to enlarge the hair follicles and reverse the shrinking process. By enlarging the hair follicles, the growth phase of the hair cycle is prolonged, allowing the hair to become longer and thicker-looking. And with more follicles in the growth phase at the same time, it is possible to see improved coverage of the scalp.
Rogaine Men's Foam®
Rogaine Foam for Men is the first and only FDA-approved hair regrowth foam. It contains 5% minoxidil, the same FDA-approved ingredient in Men's Rogaine Extra Strength solution that's clinically proven to regrow hair. And because it's a foam, it goes on easily and dries fast. It's not greasy and it doesn't run or drip. It's so easy to use, it could make getting back your hair one of the easiest parts of your routine.
Directions For Use:
In the morning, within the hair thinning area, part your hair into one or more rows to maximize scalp exposure.
The foam may begin to melt upon contact with your warm skin. If your fingers are warm, rinse them in cold water first (be sure to dry them thoroughly before handling the foam).
Hold the can upside down and press nozzle to dispense the topical foam product onto your fingers. The total amount of foam applied should be half a capful.
Using your fingers, spread foam over the hair loss area and gently massage into scalp, then wash your hands well.
In the evening, follow the steps above to be sure you apply it correctly. Make sure that you apply it early enough before going to bed to allow it to dry.
While using Rogaine, you can continue other hair care routines, including washing, styling—even coloring—as long as you allow Rogaine to dry first.
Rogaine Regular Strength for Women®
Rogaine® Hair Regrowth Treatment contains the only FDA-approved topical ingredient clinically proven to regrow hair in men and women.

If you're among the estimated 30 million women in the U.S. experiencing hereditary hair thinning, you can fight back with Rogaine®. And the best time to start is now. Because the sooner you start, the better your chances of regrowing your hair.
Using Women's Rogaine® is just like exercising: It takes time to work. The good news is that most women see the first signs of results from Rogaine® in just two to four months*.
Directions For Use:
Apply one mL 2 times a day directly onto the scalp in the hair loss area.
Using more or more often will not improve results.
Continued use is necessary to increase and keep your hair regrowth, or hair loss will begin again.
© Vivacare 2022. All rights reserved
Last updated: 1/8/2019