Pima Dermatology offers treatment of many different colors of Decorative tattoos, Cosmetic tattoos of the eyebrows, lips, or eyeliner and traumatic tattoos such as road rash.
Overview

Tattoos no longer should be viewed as permanent. Several very good options now exist for removal of tattoos. There is simply not one method that is right for every person, nor for every tattoo. The ability to remove a tattoo will vary by the amount, color, age, and depth of tattoo pigment applied to the skin. In general, the older the tattoo, the faster it responds to treatment. Certain colors and complex pigments such as greens, purples, and yellows, may be more difficult to remove. Different techniques may be needed to remove different colors from the skin. No two tattoos are the same and there is often quite a difference in how fast any given tattoo will respond to a given therapy. Generally, it takes 4-8 treatments or more to remove the tattoo.
Treatment Options
Laser Techniques
Q-Switched Nd-YAG Laser: Utilizes a high intensity infrared or green light pulsed in a rapid manner. It works by exploding apart pigment particles under the skin into smaller and smaller particles with each treatment. Removal may require as many as 4-8 Laser treatment sessions at approximately 6 week intervals for optimal or complete removal. This Laser is excellent for tattoos that are dark blue and black or red in color, but does poorly in removing green and yellow pigment.
Astanza Trinity Laser: Houses three different high-powered Q-Switched Laser modalities: [Ruby (red light), YAG 532 (green light) and YAG 1064 (infrared)]. Mulitcolored ink located deep within the skin can be more aggressively treated with higher fluences (power) and larger spot sizes to reach the ink.
Q-Switched Ruby Laser: This Laser works on a similar principal as the Q-Swtiched Nd-YAG Laser. The Ruby Laser is ideal for dark pigment and works well to remove green pigment.
Alexandrite Laser: Similar in principle to the other Q-Switched Lasers, this Laser has a broad application for the removal of most tattoo pigments and is excellent to remove tattoos with dark black, blue or green colors.
Versapulse Laser: This Laser has an Nd-YAG and an Alexandrite Laser built in which enables us to treat with green, red and infrared light. Tattoos with any combination of black, blue, green and/or red pigments can usually be treated effectively with this one device.
CO2 and Ebrium:YAG Lasers: These Lasers are used to create an abrasion of the skin to remove pigment more efficiently in difficult to treat tattoos, but are more apt to leave a scar.
Surgical Excision
If the tattoo is relatively small and/or easily accessible and cosmetically in an inconspicuous area, the entire tattoo can be surgically cut out or excised, and sutured closed with stitches. This can be done in a single treatment session, or in several treatment sessions involving a serial excision technique. This surgical technique is done in the office under local anesthesia. The surgical technique always leaves a line scar which can spread and leave a significant or disfiguring scar in certain areas of the body (breast, shoulder or base of the neck areas)
Dermabrasion
Dermabrasion is a technique utilizing a specially designed, rapidly rotating, diamond tipped, skin sanding instrument to physically remove the tattoo pigment under the skin. Under local anesthesia and a surface skin refrigerant, the area is carefully abraded layer by layer until all or most all visible skin pigment, or most of the visible pigment is removed. This results in an open abrasion or sore that slowly heals over the next 4-6 weeks. The wound requires daily care, and can be sore during the healing phase. This treatment will always result in a scar which initially will be pink to violaceous in color and in certain areas (especially in deltoid, neck and chest) can become raised, disfiguring and/or hypertrophic. This treatment is usually done in a single 15-30 minute treatment session in the office under local anesthesia.
_________________________________________________________________
© 2012 Pima Dermatology, 5150 E. Glenn Street, Tucson, AZ 85712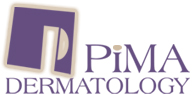 Last updated March 22, 2012.