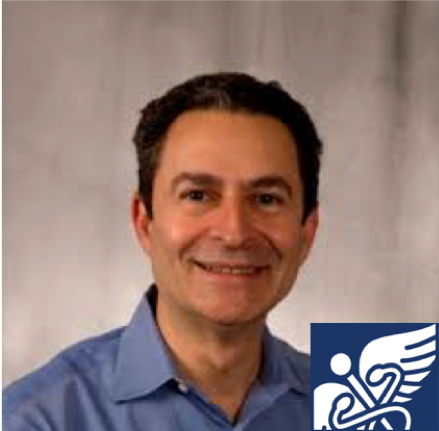 There is now a laser that will help eliminate unwanted body hair! Laser hair removal can remove unwanted hair faster and more effectively than traditional methods.

The best candidates are those who have fair skin and dark hair, but some lasers can actually accommodate patients with some degree of color. Fair and gray hairs will not respond well.
Almost everyone has unwanted hair somewhere on their body. Unfortunately, traditional hair removal routines can be tedious, painful and expensive over time. Shaving may last a day, waxing a couple of weeks, but none of them last forever - and therein lies the true beauty of laser hair removal.
Lasers are safe and effective for nearly all skin types. Here are some examples of the type of results you can expect:
How does laser hair removal work?
To eliminate hair, the laser emits gentle pulses of energy that pass through the skin to the hair follicle. This energy is then absorbed into the hair follicle to destroy it so that is unlikely to grow there again.
Does laser hair removal hurt?
The laser treatment causes only minimal discomfort. Patients often say it feels similar to the snap of a rubber band. Slight redness or localized swelling can occasionally occur, but this usually subsides within the first 24 hours after treatment.
How many laser hair treatments are required?
Typically patients will see results in 4 - 6 treatments, though this number will vary based upon skin tone, hair color and several other factors. We will talk to you about variables that may affect your individual results.
Laser hair removal involves the removal of unwanted facial or body hair with laser light.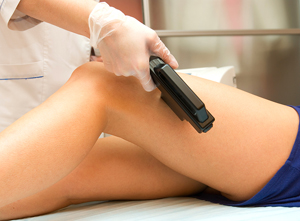 Lasers produce intense light that is absorbed by the pigment in hair called melanin. The melanin absorbs the light and heats up. This heat damages the hair follicle without hurting the surrounding tissue. The damaged hair follicle stops producing hair or replaces thick adult hair with a fine, light-colored hair (vellus hair).
Traditional hair removal methods, such as waxing, shaving, and plucking, remove only the hair shaft. This leaves the hair follicle in place to grow new hair. Electrolysis delivers an electrical current to each follicle that can lead to permanent hair removal. However, it is painful and slow and usually requires multiple treatments over months or years.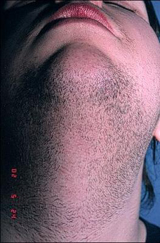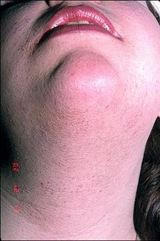 Laser hair removal is a safe, effective, and convenient alternative to other methods. Lasers can treat large areas quickly, often in the time it takes to shave. Improvements may be seen after only one treatment, but repeat treatments are usually required to achieve desired results.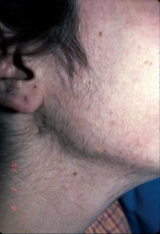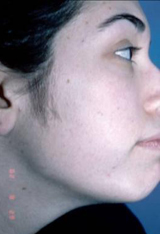 After treatment, the area may appear swollen and feel like a mild sunburn.
Factors that Influence Results
Results of laser hair removal depend on several factors, including:
Hair color—Lasers are most effective for dark hair. Light hair lacks sufficient melanin to absorb the light and heat up the hair follicle.
Hair thickness—Thicker hairs respond better than thinner hairs.
Skin color—Previously, only fair-skinned people could be treated with lasers for hair removal. Now dark-skinned individuals can also be treated, but gentler and more numerous treatments may be required to deliver the same results.
Body area—Arms, legs, underarms, and hair in the bikini area respond best to treatment. Facial hair (chin and lip) tends to be more resistant.
People of all skin colors and hair types will benefit from some delayed hair re-growth for as long as 6 months after one treatment. However, because not all hair follicles are active at the same time, multiple treatments are usually needed to remove all hair from each area. Most people require 3–6 treatments, 4 to 6 weeks apart. After the initial round of treatments, your doctor may recommend maintenance treatments once or twice per year.Along with mild side effects, some people may experience scarring or changes in skin color, although these changes are rare and usually resolve quickly. You can minimize these risks by carefully following your pre- and post-treatment instructions.
---
Images courtesy of Gerald Goldberg, M.D.