What is CoolSculpting®?
The unique CoolSculpting® fat-freezing technology is a nonsurgical, scientifically proven way to reduce pockets of fat in trouble spots such as the abdomen, flanks, or under the chin in as little as one session.*
*Up to 20-25% reduction in fat layer thickness after a single session. Results may be seen as early as 1 to 3 months after treatment.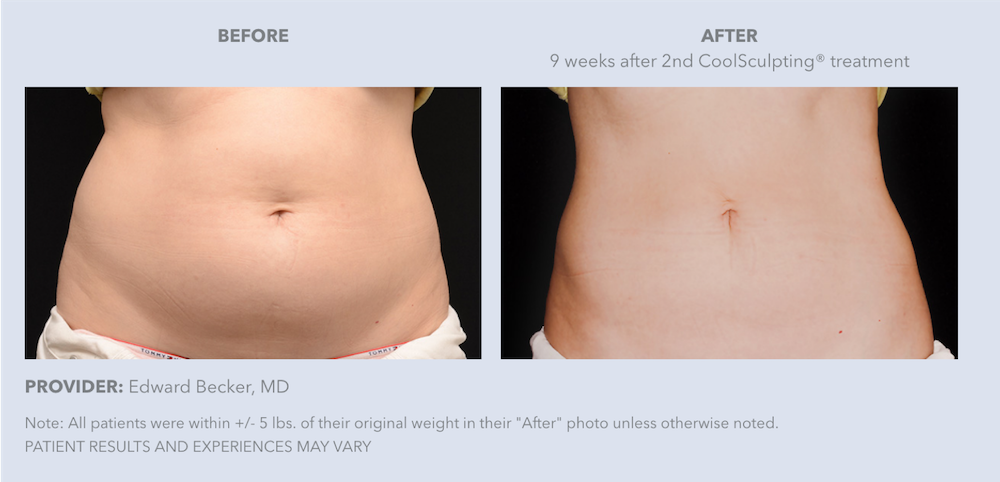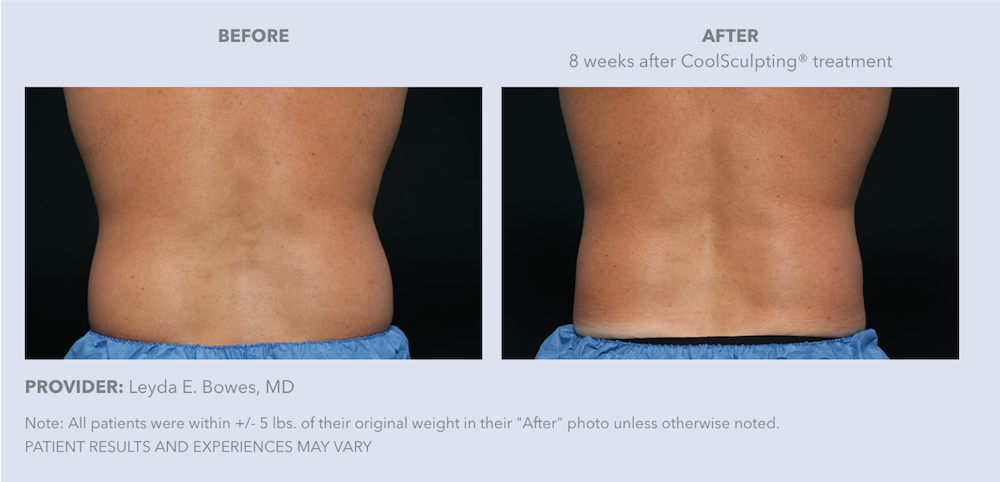 Reduce the bulge
CoolSculpting® is FDA-cleared to treat 9 different areas of the body: visible bulges under the chin and jawline areas, thighs, abdomen and flanks, along with bra fat, back fat, underneath the buttocks, and upper arms.
Proven science and real results.
CoolSculpting's fat-freezing technology gives long-term results that make trouble spots a lot less troubling.* Fat cells don't like the cold and at a certain temperature they will freeze. Once that happens, your body will naturally eliminate the dead cells in 1-3 months or more, resulting in up to 20%-25% reduction of fat in a treated area.
*Long term results are based on two case reports.
How long does a treatment take?
Each CoolSculpting® treatment is different, so it depends on which areas of the body and how many of them you plan on doing. Depending on the area, treatment can be done in as little as 35 minutes. The CoolSmooth applicator is discontinued, however some practices may still use it. If you opt to do multiple treatments in a session, expect to spend more time. Some providers have multiple CoolSculpting® machines, allowing patients to do multiple treatment areas at once, reducing the amount of time spent in office.
How many treatments do I need?
While you will see up to a 20-25% fat reduction in the treated area after a single treatment, it depends on the person and the area being treated. Your provider will work with you to determine if additional treatments are necessary to reach your desired goal.
Can the Coolsculpting Procedure Remove Fat From Anywhere?
The CoolSculpting procedure is FDA-cleared to target stubborn fat bulges in specific areas: abdomen, flank/side ("muffin top" or "love handle"), inner thigh, outer thigh, double chin.
What Does It Feel Like?
As the cooling begins during the first few minutes, you may typically feel intense cold. This soon dissipates. With some applicators, you'll feel some pulling as suction is applied. The area generally goes numb within 5 to 10 minutes during treatment. Many people read, watch videos, work on their laptop, or even take a nap during their CoolSculpting treatment.
After the treatment, you may feel some tingling as the area is massaged for 2 or 3 minutes. Patients are usually able to return to normal activities following their appointment.
Uses
The CoolSculpting® procedure is FDA-cleared for the treatment of visible fat bulges in the submental (under the chin) and submandibular (under the jawline) areas, thigh, abdomen, and flank, along with bra fat, back fat, underneath the buttocks (also knowns as banana roll) and upper arm. It is also FDA-cleared to affect the appearance of lax tissue with submental area treatments. The CoolSculpting® procedure is not a treatment for weight loss.
Important Safety Information
The CoolSculpting® procedure is not for everyone. You should not have the CoolSculpting® procedure if you suffer from cryoglobulinemia, cold agglutinin disease, or paroxysmal cold hemoglobinuria.
Tell your doctor if you have any medical conditions including recent surgery, pre-existing hernia, and any known sensitivities or allergies.
During the procedure you may experience sensations of pulling, tugging, mild pinching, intense cold, tingling, stinging, aching, and cramping at the treatment site. The sensations subside as the area becomes numb. Following the procedure, typical side effects include temporary redness, swelling, blanching, bruising, firmness, tingling, stinging, tenderness, cramping, aching, itching, or skin sensitivity, and sensation of fullness in the back of the throat after submental or submandibular area treatment.
Rare side effects may also occur. CoolSculpting® may cause visible enlargement in the treated area which may develop two to five months after treatment and requires surgical intervention for correction.
Please see full
Important Safety Information
for additional information.
Results and Patient Experience May Vary.
---
COOLSCULPTING® and the Snowflake Design are trademarks of ZELTIQ Aesthetics, Inc., an Allergan affiliate.

Allergan® and its design are trademarks of Allergan, Inc. All other trademarks are the property of their respective owners. © 2019 Allergan. All rights reserved.

Allergan, 2525 Dupont Dr. Irvine, CA 92612