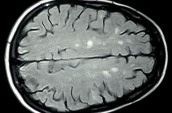 There is no single test used to diagnose MS. Doctors use a number of tests to rule out or confirm the diagnosis. There are many other disorders that can mimic MS. Some of these other disorders can be cured, while others require different treatments than those used for MS. Therefore it is very important to perform a thorough investigation before making a diagnosis.
In addition to a complete medical history, physical examination, and a detailed neurological examination, a doctor will order an MRI scan of the head and spine to look for the characteristic lesions of MS. MRI is used to generate images of the brain and/or spinal cord. Then a special dye or contrast agent is injected into a vein and the MRI is repeated. In regions with active inflammation in MS, there is disruption of the blood-brain barrier and the dye will leak into the active MS lesion.
Doctors may also order evoked potential tests, which use electrodes on the skin and painless electric signals to measure how quickly and accurately the nervous system responds to stimulation. In addition, they may request a lumbar puncture (sometimes called a "spinal tap") to obtain a sample of cerebrospinal fluid. This allows them to look for proteins and inflammatory cells associated with the disease and to rule out other diseases that may look similar to MS, including some infections and other illnesses. MS is confirmed when positive signs of the disease are found in different parts of the nervous system at more than one time interval and there is no alternative diagnosis.
---
Reference: National Institute of Neurological Disorders and Stroke (NINDS)
Last Updated: May 26, 2016
Multiple Sclerosis (MS)

Condition
Types
Signs & Symptoms
Diagnosis
Tests
Treatment
Management
Lifestyle
General
Clinical Research
Show All