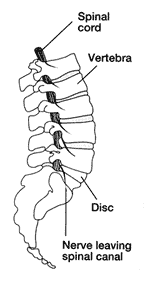 The spinal cord is a long, dense bundle of nerve tissue that runs through holes in the vertebrae called vertebral foramen and extends down the trunk of the body.The spinal cord, along with the brain, make up the central nervous system (CNS).Other peripheral nerves attach to the spinal cord and transmit signals between the brain and muscles and organs.If the spinal cord is injured, the peripheral nerves below the injury cannot send or receive signals from the brain, and the muscles and organs that are attached will lose their function.
Although the hard bones of the spinal column protect the soft tissues of the spinal cord, vertebrae can still be broken or dislocated in a variety of ways and cause traumatic injury to the spinal cord. Injuries can occur at any level of the spinal cord. The segment of the cord that is injured, and the severity of the injury, will determine which body functions are compromised or lost. Because the spinal cord acts as the main information pathway between the brain and the rest of the body, a spinal cord injury can have significant physiological consequences.
Catastrophic falls, being thrown from a horse or through a windshield, or any kind of physical trauma that crushes and compresses the vertebrae in the neck can cause irreversible damage at the cervical level of the spinal cord and below. Paralysis of most of the body including the arms and legs, called quadriplegia, is the likely result. Automobile accidents are often responsible for spinal cord damage in the middle back (the thoracic or lumbar area), which can cause paralysis of the lower trunk and lower extremities, called paraplegia.
Other kinds of injuries that directly penetrate the spinal cord, such as gunshot or knife wounds, can either completely or partially sever the spinal cord and create life-long disabilities.
Most injuries to the spinal cord don't completely sever it. Instead, an injury is more likely to cause fractures and compression of the vertebrae, which then crush and destroy the axons, extensions of nerve cells that carry signals up and down the spinal cord between the brain and the rest of the body. An injury to the spinal cord can damage a few, many, or almost all of these axons. Some injuries will allow almost complete recovery. Others will result in complete paralysis.
Until World War II, a serious spinal cord injury usually meant certain death, or at best a lifetime confined to a wheelchair and an ongoing struggle to survive secondary complications such as breathing problems or blood clots. But today, improved emergency care for people with spinal cord injuries and aggressive treatment and rehabilitation can minimize damage to the nervous system and even restore limited abilities.
Advances in research are giving doctors and patients hope that all spinal cord injuries will eventually be repairable. With new surgical techniques and exciting developments in spinal nerve regeneration, the future for spinal cord injury survivors looks brighter every day.
What happens when the spinal cord is injured?
A spinal cord injury usually begins with a sudden, traumatic blow to the spine that fractures or dislocates vertebrae. The damage begins at the moment of injury when displaced bone fragments, disc material, or ligaments bruise or tear into spinal cord tissue. Axons are cut off or damaged beyond repair, and neural cell membranes are broken. Blood vessels may rupture and cause heavy bleeding in the CNS grey matter, which can spread to other areas of the spinal cord over the next few hours.
Within minutes, the spinal cord swells to fill the entire cavity of the spinal canal at the injury level. This swelling cuts off blood flow, which also cuts off oxygen to spinal cord tissue. Blood pressure drops, sometimes dramatically, as the body loses its ability to self-regulate. As blood pressure lowers even further, it interferes with the electrical activity of neurons and axons. All these changes can cause a condition known as spinal shock that can last from several hours to several days.
The crushing and tearing of axons is just the beginning of the devastation that occurs in the injured spinal cord and continues for days. The initial physical trauma sets off a cascade of biochemical and cellular events that kills neurons, strips axons of their myelin insulation, and triggers an inflammatory immune system response. Days or sometimes even weeks later, after this second wave of damage has passed, the area of destruction has increased--sometimes to several segments above and below the original injury--and so has the extent of disability.The events in this "secondary damage" cascade are summarized here:
Changes in blood flow cause ongoing damage: Immediately after the injury, there is a major reduction in blood flow to the site, which can last for as long as 24 hours and becomes progressively worse if untreated.Blood vessels in the grey matter also begin to leak, sometimes as early as 5 minutes after injury. Cells that line the still-intact blood vessels in the spinal cord begin to swell, and this continues to reduce blood flow to the injured area. The combination of leaking, swelling, and sluggish blood flow prevents the normal delivery of oxygen and nutrients to neurons, causing many of them to die.The body continues to regulate blood pressure and heart rate during the first hour to hour-and-a-half after the injury, but as the reduction in the rate of blood flow becomes more widespread, self-regulation begins to turn off. Blood pressure and heart rate drop.
Excessive release of neurotransmitters kills nerve cells: After the injury, an excessive release of neurotransmitters (chemicals that allow neurons to signal each other) can cause additional damage by overexciting nerve cells.

An invasion of immune system cells creates inflammation: Under normal conditions, the blood-brain barrier (which tightly controls the passage of cells and large molecules between the circulatory and central nervous systems) keeps immune system cells from entering the brain or spinal cord. But when the blood-brain barrier is broken by blood vessels bursting and leaking into spinal cord tissue, immune system cells that normally circulate in the blood - primarily white blood cells - can invade the surrounding tissue and trigger an inflammatory response. This inflammation is characterized by fluid accumulation and the influx of immune cells - neutrophils, T-cells, macrophages, and monocytes.
The up side of this immune system response is that it helps fight infection, clean up debris, and protect nerve cells. But the down side is that it sets off the release of cytokines - a group of immune system messenger molecules that exert a harmful influence on the activities of nerve cells.These cytokines send signals to other cells in the brain that cause inflamation and scar tissue to form in the brain.
Free radicals attack nerve cells: Another consequence of the immune system's entry into the CNS is that inflammation accelerates the production of highly reactive forms of oxygen molecules called free radicals.
Free radicals are produced as a by-product of normal cell metabolism. In the healthy spinal cord their numbers are small enough that they cause no harm. But injury to the spinal cord, and the subsequent wave of inflammation that sweeps through spinal cord tissue, signals particular cells to overproduce free radicals.Free radicals then attack and disable molecules that are crucial for cell function - for example, those found in cell membranes - by modifying their chemical structure. Free radicals can also change how cells respond to natural growth and survival factors, and turn these protective factors into agents of destruction.
Nerve cells self-destruct: Researchers used to think that the only way in which cells died during spinal cord injury was as a direct result of trauma.But recent findings have revealed that cells in the injured spinal cord also die from a kind of programmed cell death called apoptosis, often described as cellular suicide, that happens days or weeks after the injury.
Apoptosis is a normal cellular event that occurs in a variety of tissues and cellular systems. It helps the body get rid of old and unhealthy cells by causing them to shrink and implode. Nearby scavenger cells then gobble up the debris. Apoptosis seems to be regulated by specific molecules that have the ability to either start or stop the process.
For reasons that are still unclear, spinal cord injury sets off apoptosis, which kills oligodendrocytes in damaged areas of the spinal cord days to weeks after the injury. The death of oligodendrocytes is another blow to the damaged spinal cord, since these are the cells that form the myelin that wraps around axons and speeds the conduction of nerve impulses. Apoptosis strips myelin from intact axons in adjacent ascending and descending pathways, which further impairs the spinal cord's ability to communicate with the brain.
Researchers are especially interested in studying the mechanisms of this wave of secondary damage because finding ways to stop it could save axons and reduce disabilities. This could make a big difference in the potential for recovery.
What are the immediate treatments for spinal cord injury?
The outcome of any injury to the spinal cord depends upon the number of axons that survive: the higher the number of normally functioning axons, the less the amount of disability. Consequently, the most important consideration when moving people to a hospital or trauma center is preventing further injury to the spine and spinal cord.
Spinal cord injury isn't always obvious. Any injury that involves the head (especially with trauma to the front of the face), pelvic fractures, penetrating injuries in the area of the spine, or injuries that result from falling from heights should be suspect for spinal cord damage.Until imaging of the spine is done at an emergency or trauma center, people who might have spinal cord injury should be cared for as if any significant movement of the spine could cause further damage. They are usually transported in a recumbent (lying down) position, with a rigid collar and backboard immobilizing the spine.
Respiratory complications are often an indication of the severity of spinal cord injury. About one third of those with injury to the neck area will need help with breathing and require respiratory support via intubation, which involves inserting a tube connected to an oxygen tank through the nose or throat and into the airway.
Methylprednisolone, a steroid drug, became standard treatment for acute spinal cord injury in 1990 when a large-scale clinical trial supported by the National Institute of Neurological Disorders and Stroke showed significantly better recovery in patients who were given the drug within the first 8 hours after their injury. Methylprednisolone appears to reduce the damage to nerve cells and decreases inflammation near the injury site by suppressing activities of immune cells.
Roughly three days after the injury, doctors give patients a complete neurological examination to diagnose the severity of the injury and predict the likely extent of recovery. The ASIA Impairment Scale is the standard diagnostic tool used by doctors. X-rays, MRIs, or more advanced imaging techniques are also used to visualize the entire length of the spine.
How does a spinal cord injury affect the rest of the body?
People who survive a spinal cord injury will most likely have medical complications such as chronic pain and bladder and bowel dysfunction, along with an increased susceptibility to respiratory and heart problems. Successful recovery depends upon how well these chronic conditions are handled day to day.
Breathing: Any injury to the spinal cord at or above the C3, C4, and C5 segments, which supply the phrenic nerves leading to the diaphragm, can stop breathing. People with these injuries need immediate ventilatory support. When injuries are at the C5 level and below, diaphragm function is preserved, but breathing tends to be rapid and shallow and people have trouble coughing and clearing secretions from their lungs because of weak thoracic muscles. Once pulmonary function improves, a large percentage of those with C4 injuries can be weaned from mechanical ventilation in the weeks following the injury.
• Pneumonia: Respiratory complications, primarily as a result of pneumonia, are a leading cause of death in people with spinal cord injury. In fact, intubation increases the risk of developing ventilator-associated pneumonia (VAP) by 1 to 3 percent per day of intubation. More than a quarter of the deaths caused by spinal cord injury are the result of VAP. Spinal cord injury patients who are intubated have to be carefully monitored for VAP and treated with antibiotics if symptoms appear.
• Irregular heart beat and low blood pressure: Spinal cord injuries in the cervical region are often accompanied by blood pressure instability and heart arrhythmias. Because of interruptions to the cardiac accelerator nerves, the heart can beat at a dangerously slow pace, or it can pound rapidly and irregularly. Arrhythmias usually appear in the first 2 weeks after injury and are more common and severe in the most serious injuries.
Low blood pressure also often occurs due to loss of tone in blood vessels, which widen and cause blood to pool in the small arteries far away from the heart. This is usually treated with an intravenous infusion to build up blood volume.
Blood clots: People with spinal cord injuries are at triple the usual risk for blood clots. The risk for clots is low in the first 72 hours, but afterwards anticoagulation drug therapy can be used as a preventive measure.
Spasm: Many of our reflex movements are controlled by the spinal cord but regulated by the brain. When the spinal cord is damaged, information from the brain can no longer regulate reflex activity. Reflexes may become exaggerated over time, causing spasticity. If spasms become severe enough, they may require medical treatment. For some, spasms can be as much of a help as they are a hindrance, since spasms can tone muscles that would otherwise waste away. Some people can even learn to use the increased tone in their legs to help them turn over in bed, propel them into and out of a wheelchair, or stand.
Autonomic dysreflexia: Autonomic dysreflexia is a life-threatening reflex action that primarily affects those with injuries to the neck or upper back. It happens when there is an irritation, pain, or stimulus to the nervous system below the level of injury. The irritated area tries to send a signal to the brain, but since the signal isn't able to get through, a reflex action occurs without the brain's regulation. Unlike spasms that affect muscles, autonomic dysreflexia affects vascular and organ systems controlled by the sympathetic nervous system.
Pressure sores (or pressure ulcers): Pressure sores are areas of skin tissue that have broken down because of continuous pressure on the skin. People with paraplegia and quadriplegia are susceptible to pressure sores because they can't move easily on their own.Places that support weight when someone is seated or recumbent are vulnerable areas. When these areas press against a surface for a long period of time, the skin compresses and reduces the flow of blood to the area. When the blood supply is blocked for too long, the skin will begin to break down.
Since spinal cord injury reduces or eliminates sensation below the level of injury, people may not be aware of the normal signals to change position, and must be shifted periodically by a caregiver. Good nutrition and hygiene can also help prevent pressure sores by encouraging healthy skin.
Pain: People who are paralyzed often have what is called neurogenic pain resulting from damage to nerves in the spinal cord. For some survivors of spinal cord injury, pain or an intense burning or stinging sensation is unremitting due to hypersensitivity in some parts of the body. Others are prone to normal musculoskeletal pain as well, such as shoulder pain due to overuse of the shoulder joint from pushing a wheelchair and using the arms for transfers. Treatments for chronic pain include medications, acupuncture, spinal or brain electrical stimulation, and surgery.
Bladder and bowel problems: Most spinal cord injuries affect bladder and bowel functions because the nerves that control the involved organs originate in the segments near the lower termination of the spinal cord and are cut off from brain input. Without coordination from the brain, the muscles of the bladder and urethra can't work together effectively, and urination becomes abnormal. The bladder can empty suddenly without warning, or become over-full without releasing. In some cases the bladder releases, but urine backs up into the kidneys because it isn't able to get past the urethral sphincter. Most people with spinal cord injuries use either intermittent catheterization or an indwelling catheter to empty their bladders.
Bowel function is similarly affected. The anal sphincter muscle can remain tight, so that bowel movements happen on a reflex basis whenever the bowel is full. Or the muscle can be permanently relaxed, which is called a "flaccid bowel," and result in an inability to have a bowel movement. This requires more frequent attempts to empty the bowel and manual removal of stool to prevent fecal impaction. People with spinal cord injuries are usually put on a regularly scheduled bowel program to prevent accidents.
• Reproductive and sexual function: Spinal cord injury has a greater impact on sexual and reproductive function in men than it does in women. Most spinal cord injured women remain fertile and can conceive and bear children. Even those with severe injury may well retain orgasmic function, although many lose some if not all of their ability to reach satisfaction.
Depending on the level of injury, men may have problems with erections and ejaculation, and most will have compromised fertility due to decreased motility of their sperm. Treatments for men include vibratory or electrical stimulation and drugs such as sildenafil (Viagra). Many couples may also need assisted fertility treatments to allow a spinal cord injured man to father children.
Once someone has survived the injury and begun to psychologically and emotionally cope with the nature of his or her situation, the next concern will be how to live with disabilities. Doctors are now able to predict with reasonable accuracy the likely long-term outcome of spinal cord injuries. This helps patients set achievable goals for themselves, and gives families and loved ones a realistic set of expectations for the future.
How does rehabilitation help people recover from spinal cord injuries?
No two people will experience the same emotions after surviving a spinal cord injury, but almost everyone will feel frightened, anxious, or confused about what has happened. It's common for people to have very mixed feelings: relief that they are still alive, but disbelief at the nature of their disabilities.
Rehabilitation programs combine physical therapies with skill-building activities and counseling to provide social and emotional support. The education and active involvement of the newly injured person and his or her family and friends is crucial.A rehabilitation team is usually led by a doctor specializing in physical medicine and rehabilitation (called a physiatrist), and often includes social workers, physical and occupational therapists, recreational therapists, rehabilitation nurses, rehabilitation psychologists, vocational counselors, nutritionists, and other specialists. A case-worker or program manager coordinates care.
In the initial phase of rehabilitation, therapists emphasize regaining leg and arm strength since mobility and communication are the two most important areas of function. For some, mobility will only be possible with the assistance of devices such as a walker, leg braces, or a wheelchair. Communication skills, such as writing, typing, and using the telephone, may also require adaptive devices.
Physical therapy includes exercise programs geared toward muscle strengthening. Occupational therapy helps redevelop fine motor skills. Bladder and bowel management programs teach basic toileting routines, and patients also learn techniques for self-grooming. People acquire coping strategies for recurring episodes of spasticity, autonomic dysreflexia, and neurogenic pain.
Vocational rehabilitation begins with an assessment of basic work skills, current dexterity, and physical and cognitive capabilities to determine the likelihood for employment. A vocational rehabilitation specialist then identifies potential work places, determines the type of assistive equipment that will be needed, and helps arrange for a user-friendly workplace. For those whose disabilities prevent them from returning to the workplace, therapists focus on encouraging productivity through participation in activities that provide a sense of satisfaction and self-esteem. This could include educational classes, hobbies, memberships in special interest groups, and participation in family and community events.
Recreation therapy encourages patients to build on their abilities so that they can participate in recreational or athletic activities at their level of mobility. Engaging in recreational outlets and athletics helps those with spinal cord injuries achieve a more balanced and normal lifestyle and also provides opportunities for socialization and self-expression.
---
Reference: The National Institute of Neurological Disorders and Stroke