The scientific name for an ear infection is otitis media (OM)
An ear infection is an inflammation of the middle ear, usually caused by bacteria, that occurs when fluid builds up behind the eardrum. Anyone can get an ear infection, but children get them more often than adults. 3 out of 4 children will have at least one ear infection by their third birthday. In fact, ear infections are the most common reason parents bring their child to a doctor.
Types of Otitis Media
There are three types of otitis media.
Acute otitis media (AOM) is the most common ear infection. Parts of the middle ear are infected and swollen and fluid is trapped behind the eardrum. This causes pain in the ear—commonly called an earache. Your child might also have a fever.
Otitis media with effusion (OME) sometimes happens after an ear infection has run its course and fluid stays trapped behind the eardrum. A child with OME may have no symptoms, but a doctor will be able to see the fluid behind the eardrum with a special instrument.
Chronic otitis media with effusion (COME)happens when fluid remains in the middle ear for a long time or returns over and over again, even though there is no infection. COME makes it harder for children to fight new infections and also can affect their hearing.
Cause of Otitis Media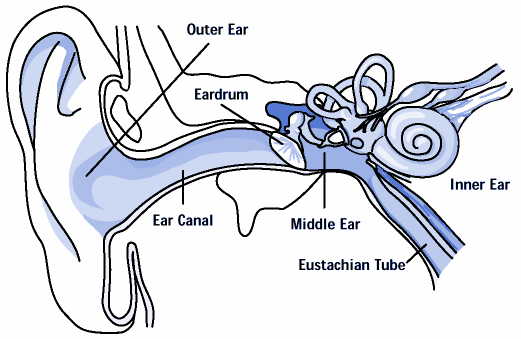 An ear infection usually is caused by bacteria and often begins after a child has a sore throat, cold, or other upper respiratory infection. If the upper respiratory infection is bacterial, these same bacteria may spread to the middle ear; if the upper respiratory infection is caused by a virus, such as a cold, bacteria may be drawn to the microbe-friendly environment and move into the middle ear as a secondary infection. Because of the infection, fluid builds up behind the eardrum.
It is harder for children to fight illness than it is for adults, so children develop ear infections more often. Some researchers believe that other factors, such as being around cigarette smoke, can contribute to ear infections.
What's happening during an ear infection?
When the ears are infected the eustachian tubes become inflamed and swollen. The adenoids can also become infected.
The eustachian tubes are inside the ear. They keep air pressure stable in the ear. These tubes also help supply the ears with fresh air.
The adenoids are located near the eustachian tubes. Adenoids are clumps of cells that fight infections.
Swollen and inflamed eustachian tubes often get clogged with fluid and mucus from a cold. If the fluids plug the openings of the eustachian tubes, air and fluid get trapped inside the ear. These tubes are smaller and straighter in children than they are in adults. This makes it harder for fluid to drain out of the ear and is one reason that children get more ear infections than adults. The infections are usually painful.
Adenoids are located in the throat, near the eustachian tubes. Adenoids can become infected and swollen. They can also block the openings of the eustachian tubes, trapping air and fluid. Just like the eustachian tubes, the adenoids are different in children than in adults. In children, the adenoids are larger, so they can more easily block the opening of the eustachian tube.
Symptoms of Otitis Media
Most ear infections happen to children before they've learned how to talk. If your child isn't old enough to say "My ear hurts," here are a few things to look for:
Tugging or pulling at the ear(s)
Fussiness and crying
Trouble sleeping
Fever (especially in infants and younger children)
Fluid draining from the ear
Clumsiness or problems with balance
Trouble hearing or responding to quiet sounds
A child with an ear infection may show you any of these signs. If you see any of them, call a doctor.
Otitis Media and Hearing Loss
An ear infection can cause temporary hearing problems. Temporary speech and language problems can happen, too. If left untreated, these problems can become more serious.
An ear infection affects important parts in the ear that help us hear. Sounds around us are collected by the outer ear. Then sound travels to the middle ear, which has three tiny bones and is filled with air. After that, sound moves on to the inner ear. The inner ear is where sounds are turned into electrical signals and sent to the brain. An ear infection affects the whole ear, but especially the middle and inner ear. Hearing is affected because sound cannot get through an ear that is filled with fluid.
---
Reference: National Institute on Deafness and Other Communication Disorders
Last updated March 7, 2017
Otitis Media

Condition
Treatment
Prevention
En Espanol
Show All