Identifying the Signs of Labor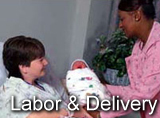 As you approach your due date, you will be looking for any little sign that labor is about to start.
You might notice that your baby has "dropped" or moved lower into your pelvis. This is called "lightening." If you have a pelvic exam during your prenatal visit, your doctor might report changes in your cervix that you cannot feel, but that suggest your body is getting ready. For some women, a flurry of energy and the impulse to cook or clean, called "nesting," is a sign that labor is approaching.
Some signs suggest that labor will begin very soon. Call your doctor or midwife if you have any of the following signs of labor. Call you doctor even if it's weeks before your due date — you might be going into preterm labor. Your doctor or midwife can decide if it's time to go to the hospital or if you should be seen at the office first.
You have contractions that become stronger at regular and increasingly shorter intervals.
You have lower back pain and cramping that does not go away.
Your water breaks (can be a large gush or a continuous trickle).
You have a bloody (brownish or red-tinged) mucus discharge. This is probably the mucus plug that blocks the cervix. Losing your mucus plug usually means your cervix is dilating (opening up) and becoming thinner and softer (effacing). Labor could start right away or may still be days away.
Did my water break?
It's not always easy to know. If your water breaks, it could be a gush or a slow trickle of amniotic fluid. Rupture of membranes is the medical term for your water breaking. Let your doctor know the time your water breaks and any color or odor.
Also, call your doctor if you think your water broke, but are not sure. An easy test can tell your doctor if the leaking fluid is urine (many pregnant women leak urine) or amniotic fluid. Often a woman will go into labor soon after her water breaks. When this doesn't happen, her doctor may want to induce (bring about) labor. This is because once your water breaks, your risk of getting an infection goes up as labor is delayed.
False Labor
Many women, especially first-time mothers-to-be, think they are in labor when they're not. This is called false labor. "Practice" contractions called Braxton Hicks contractions are common in the last weeks of pregnancy or earlier. The tightening of your uterus might startle you. Some might even be painful or take your breath away. It's no wonder that many women mistaken Braxton Hicks contractions for the real thing. So don't feel embarrassed if you go to the hospital thinking you're in labor, only to be sent home.
How can you tell if your contractions are true labor? Time them.
Use a watch or clock to keep track of the time one contraction starts to the time the next contraction starts, as well as how long each contraction lasts. With true labor, contractions become regular, stronger, and more frequent. Braxton Hicks contractions are not in a regular pattern, and they taper off and go away. Some women find that a change in activity, such as walking or lying down, makes Braxton Hicks contractions go away. This won't happen with true labor. Even with these guidelines, it can be hard to tell if labor is real. If you ever are unsure if contractions are true labor, call your doctor.
Stages of Labor
Labor occurs in three stages. When regular contractions begin, the baby moves down into the pelvis as the cervix both effaces (thins) and dilates (opens). How labor progresses and how long it lasts are different for every woman. But each stage features some milestones that are true for every woman.
First Stage of Labor
The first stage begins with the onset of labor and ends when the cervix is fully opened. It is the longest stage of labor, usually lasting about 12 to 19 hours. Many women spend the early part of this first stage at home. You might want to rest, watch TV, hang out with family, or even go for a walk. Unless your doctor tells you otherwise, you can drink and eat during labor, which can provide you with needed energy later. While at home, time your contractions and keep your doctor up to date on your progress. Your doctor will tell you when to go to the hospital or birthing center.
At the hospital, your doctor will monitor the progress of your labor by periodically checking your cervix, as well as the baby's position and station (location in the birth canal). Most babies' heads enter the pelvis facing to one side, and then rotate to face down. Sometimes, a baby will be facing up, towards the mother's abdomen. Intense back labor often goes along with this position. Your doctor might try to rotate the baby, or the baby might turn on its own.
As you near the end of the first stage of labor, contractions become longer, stronger, and closer together. Many of the positioning and relaxation tips you learned in childbirth class can help now. Try to find the most comfortable position during contractions and to let your muscles go limp between contractions. Let your support person know how he or she can be helpful, such as by rubbing your lower back, giving you ice chips to suck, or putting a cold washcloth on your forehead.
Sometimes, medicines and other methods are used to help speed up labor that is progressing slowly. Many doctors will rupture the membranes. Although this practice is widely used, studies show that doing so during labor does not help shorten the length of labor.
Your doctor might want to use an electronic fetal monitor to see if blood supply to your baby is okay. For most women, this involves putting two straps around the mother's abdomen. One strap measures the strength and frequency of your contractions. The other strap records how the baby's heartbeat reacts to the contraction.
The most difficult phase of this first stage is the transition. Contractions are very powerful, with very little time to relax in between, as the cervix stretches the last, few centimeters. Many women feel shaky or nauseated. The cervix is fully dilated when it reaches 10 centimeters.
Second Stage of Labor
The second stage involves pushing and delivery of your baby. It usually lasts 20 minutes to two hours. You will push hard during contractions, and rest between contractions. Pushing is hard work, and a support person can really help keep you focused. A woman can give birth in many positions, such as lying on her back, squatting, or kneeling. You might find pushing to be easier or more comfortable one way. Some studies suggest that upright positions, such as squatting, may shorten this stage of labor and help keep the tissue near the birth canal intact.
When the top of your baby's head fully appears (crowning), your doctor will tell you when to push and deliver your baby. Your doctor may make a small cut, called an episiotomy (uh-peez-ee-OT-oh-mee), to enlarge the vaginal opening. Most women in childbirth do not need episiotomy. Sometimes, forceps (tool shaped like salad-tongs) or suction is used to help guide the baby through the birth canal. This is called assisted vaginal delivery. After your baby is born, the umbilical cord is cut. Make sure to tell your doctor if you or your partner would like to cut the umbilical cord.
Third Stage of Labor
The third stage involves delivery of the placenta (afterbirth). It is the shortest stage, lasting 5 to 30 minutes. Contractions will begin 5 to 30 minutes after birth, signaling that it's time to deliver the placenta. You might have chills or shakiness.
Labor is over once the placenta is delivered. Your doctor will repair the episiotomy and any tears you might have.
---