Osteoarthritis is the most common type of arthritis and is seen especially among older people. (It is also called "degenerative joint disease".)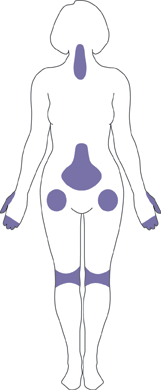 Osteoarthritis mostly affects cartilage, the hard but slippery tissue that covers the ends of bones where they meet to form a joint. Healthy cartilage allows bones to glide over one another. It also absorbs energy from the shock of physical movement. In osteoarthritis, the surface layer of cartilage breaks and wears away. This allows bones under the cartilage to rub together, causing pain, swelling, and loss of motion of the joint. Over time, the joint may lose its normal shape. Also, small deposits of bone—called osteophytes or bone spurs—may grow on the edges of the joint. Bits of bone or cartilage can break off and float inside the joint space. This causes more pain and damage.
People with osteoarthritis usually have joint pain and stiffness. Unlike some other forms of arthritis, such as rheumatoid arthritis, osteoarthritis affects only joint function. It does not affect skin tissue, the lungs, the eyes, or the blood vessels.
In rheumatoid arthritis, another common form of arthritis, the immune system attacks the tissues of the joints, leading to pain, inflammation, and eventually joint damage and malformation. It typically begins at a younger age than osteoarthritis, causes swelling and redness in joints, and may make people feel sick, tired, and feverish. Also, the joint involvement of rheumatoid arthritis is symmetrical; that is, if one joint is affected, the same joint on the opposite side of the body is usually similarly affected. Osteoarthritis, on the other hand, can occur in a single joint or can affect a joint on one side of the body much more severely.
Osteoarthritis affects different people differently.
Although in some people it progresses quickly, in most individuals joint damage develops gradually over years. In some people, osteoarthritis is relatively mild and interferes little with day-to-day-life; in others, it causes significant pain and disability.
While osteoarthritis is a disease of the joints, its effects are not just physical. In many people with osteoarthritis, lifestyle and finances also decline.
Fortunately, most people with osteoarthritis live active, productive lives despite these limitations. They do so by using treatment strategies such rest and exercise, pain relief medications, education and support programs, learning self-care, and having a positive attitude.
---
Reference: The National Institute of Arthritis and Musculoskeletal and Skin Diseases (NIAMS)
Last updated March 7, 2017
Osteoarthritis

Condition
Signs & Symptoms
Diagnosis
Treatment
Medications
Self-Care
Show All