What is Rheumatoid Arthritis?
Rheumatoid arthritis (RA) is an inflammatory disease that causes pain, swelling, stiffness, and loss of function in the joints. It occurs when the immune system, which normally defends the body from invading organisms, turns its attack against the membrane lining the joints.
Rheumatoid arthritis has several features that make it different from other kinds of arthritis. For example, rheumatoid arthritis generally occurs in a symmetrical pattern, meaning that if one knee or hand is involved, the other one also is. The disease often affects the wrist joints and the finger joints closest to the hand. It can also affect other parts of the body besides the joints. In addition, people with rheumatoid arthritis may have fatigue, occasional fevers, and a loss of energy.
The course of rheumatoid arthritis can range from mild to severe. In most cases it is chronic, meaning it lasts a long time—often a lifetime. For many people, periods of relatively mild disease activity are punctuated by flares, or times of heightened disease activity. In others, symptoms are constant.
Early diagnosis and treatment of rheumatoid arthritis is important to prevent permanent joint damage.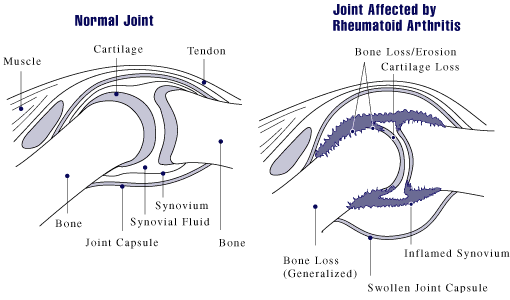 IMAGE: A joint (the place where two bones meet) is surrounded by a capsule that protects and supports it. The joint capsule is lined with a type of tissue called synovium, which produces synovial fluid that lubricates and nourishes joint tissues. In rheumatoid arthritis, the synovium becomes inflamed, causing warmth, redness, swelling, and pain. As the disease progresses, the inflamed synovium invades and damages the cartilage and bone of the joint. Surrounding muscles, ligaments, and tendons become weakened. Rheumatoid arthritis also can cause more generalized bone loss that may lead to osteoporosis (fragile bones that are prone to fracture).
Features of Rheumatoid Arthritis
Tender, warm, swollen joints
Symmetrical pattern of affected joints
Joint inflammation often affecting the wrist and finger joints closest to the hand
Joint inflammation sometimes affecting other joints, including the neck, shoulders, elbows, hips, knees, ankles, and feet
Fatigue, occasional fevers, a loss of energy
Pain and stiffness lasting for more than 30 minutes in the morning or after a long rest
Symptoms that last for many years
Variability of symptoms among people with the disease.
How Does Rheumatoid Arthritis Affect People's Lives?
Rheumatoid arthritis affects people differently. Some people have mild or moderate forms of the disease, with periods of worsening symptoms, called flares, and periods in which they feel better, called remissions. Others have a severe form of the disease that is active most of the time, lasts for many years or a lifetime, and leads to serious joint damage and disability.
Although rheumatoid arthritis is primarily a disease of the joints, its effects are not just physical. Many people with rheumatoid arthritis also experience issues related to:
depression, anxiety
feelings of helplessness
low self-esteem.
Rheumatoid arthritis can affect virtually every area of a person's life from work life to family life. It can also interfere with the joys and responsibilities of family life and may affect the decision to have children.
Fortunately, current treatment strategies allow most people with the disease to lead active and productive lives.
These strategies include pain-relieving drugs and medications that slow joint damage, a balance between rest and exercise, and patient education and support programs.
---
1According to the National Arthritis Data Workgroup, the actual number of new cases of rheumatoid arthritis is lower than previous estimates because of changes in the classification for the condition, as cited in Helmick CG, Felson DT, Lawrence RC, Gabriel S, Hirsch R, Kwoh CK, Liang MH, Kremers HM, Mayes MD, Merkel PA, Pillemer SR, Reveille JD, Stone JH, for the National Arthritis Data Workgroup. Estimates of the Prevalence of Arthritis and Other Rheumatic Conditions in the United States. Part I. Arthritis Rheum 2008;58(1):15-25.
Reference: The National Institute of Arthritis and Musculoskeletal and Skin Diseases
Last updated January 7, 2017