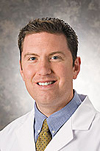 Patrick M. Killian, M.D., is a Mohs Cancer Surgeon and board-certified Dermatologist skilled in all aspects of dermatological care. He serves as Mohs Cancer Surgeon at Trillium Creek Dermatology & Surgery Center.
As a forward-thinking scholar, Dr. Killian began developing an interest in Mohs Surgery early in his medical career. After obtaining his Doctorate from Ohio State University College of Medicine in 1999, Dr. Killian quickly joined the American Academy of Dermatology, the Ohio Dermatological Association and the Central Ohio Dermatological Society.
Dr. Killian completed his internship in 2000 in the Department of Internal Medicine at Riverside Methodist Hospital in Columbus, Ohio. From 2000-2003 he served as a resident in the Division of Dermatology at Ohio State University and completed a fellowship in Mohs Micrographic Surgery in 2004 at the Skin Cancer Center in Cincinnati, Ohio.
A noted authority on Mohs Surgery, Dr. Killian has authored several publications and lectures to colleagues on a variety of dermatology topics. He has received many honors including Salutatorian at University of Notre Dame where he received his undergraduate degree, and honors standing throughout medical school.
His volunteer experience is significant and includes skin cancer screenings for many groups and organizations as well as campaigning to students on the hazards of smoking.
Dr. Killian was born and raised in Hudson, Ohio. He is married to Dr. Valerie Killian and they have a daughter, Molly. Dr. Killian's personal interests are family, cooking, golf, tennis and travel.