In honor of Asthma Awareness Month, Vivacare has launched an Asthma Education Program in collaboration with the Allergy & Asthma Network.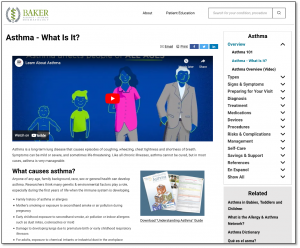 Nearly 40 patient education titles from the Allergy & Asthma Network have been published to the Patient Education Toolkits of medical professionals who treat asthma, including allergists, pediatricians and respiratory therapists. Asthma content includes asthma references, videos, and self-care tools, such as "Asthma 101", "Asthma Treatments", "Biologics for Asthma" and an "Asthma Action Plan". Videos include tips on using an asthma inhaler (MDI) and using a peak flow meter.
By being integrated into the Patient Education Toolkit these asthma resources are distributed through a doctor-branded channel at the point of care.  Each title is personalized with the doctor's name or practice logo and displayed on a searchable, mobile-friendly interface along with patient education resources from other esteemed sources.
Medical professionals using Vivacare can easily offer the information their patients need to understand their asthma and better manage it between appointments. Asthma resources can be printed in the office as needed, displayed on the doctor's own website, or sent directly to patients via email or text as an "Information Prescription".
Medical professionals will receive these helpful asthma education resources as part of the Vivacare service at no cost.
The Allergy & Asthma Network will also be promoting the Vivacare service to its professional members as a benefit of membership.